After replacing cloacal prolapse in Indian star tortoise vets discover huge bladder stone occupying almost a fifth of its body.  
Humphrey, a one-year-old Indian Star tortoise, has just recovered from a major operation that involved sawing his shell open and removing a bladder stone occupying nearly a fifth of his body.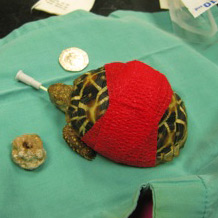 Staff at the Trinity Vet Centre in Maidstone, Kent, where he was admitted in January, are amazed by how well Humphrey is doing – especially as, at just 3oz, he is one of the smallest tortoises ever to undergo such a procedure.
The plucky little tortoise was brought to the Exotic Animal Referral Centre at Trinity Vets, because he had been straining excessively and was starting to appear unwell. Humphrey then underwent an x-ray which revealed the cause… a huge bladder stone.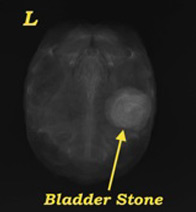 Because the stone was far too large to be passed naturally, it was necessary to remove it surgically, which meant an hour and a half long operation.
Humphrey was anaesthetised before a large square hole was sawed out of his shell, allowing vet Dr Mark Rowland to remove the stone. The piece of shell was then replaced and held in position with epoxy putty.
Dr Rowland said: "Although these stones can form and have been removed in larger tortoises, it is not common in these younger ones to see a stone of this size".
Since the operation, Humphrey has been feeling much better and is returning to normal. The nurses at Trinity Vet Centre have commented on how fast Humphrey can now move without such an extra weight to carry around.