Horse owners are being urged to start conducting regular faecal worm egg counts (FWECs) to check worm burdens.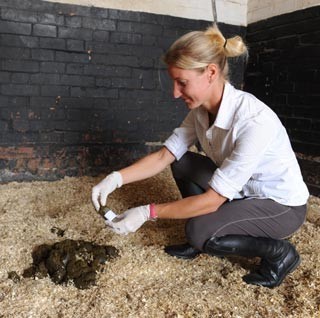 Worms become more active once the weather starts to warm up so, post-Easter is the time to start conducting regular FWECs, said Zoetis vet Wendy Talbot.
Helping horse owners
While most horse owners understand why worm control is important, surveys have consistently shown the majority still need help with the detail, according to Zoetis. These owners rely on their vet or a suitably qualified person (SQP) for the right advice, and it's the responsibility of vets and SQPs to prescribe the most efficient wormer while, at the same time, minimising the growing threat of resistance.
Regular FWECs will identify horses that need dosing for redworm. They can also help determine if some other types of parasite are present. This is particularly useful in foals and weanlings where ascarids can be a problem.
Using regular FWECs also saves worming horses unnecessarily, which helps to prevent the build-up of resistance to wormers. It can also save costs.
Targeted treatment
When horses need worming, the most appropriate wormer for the worms you are targeting should be selected and the correct amount administered according to the horse's bodyweight.
Ms Talbot said: "In summary, every horse should always be assessed as an individual in terms of health, history, environment and weight.
"The most effective wormer should be used for the specific worms you are targeting, in response to the results of your horse's FWEC or in response to strategic requirements at particular times of year."
Wendy's tips for year-round worm control in adult horses
Strategic treatments for all horses. Treat encysted small redworm November/December by using a single dose of moxidectin or a five-day course of fenbendazole.
Targeted treatments. Every two-three months throughout the grazing season carry out faecal worm egg counts and then treat for redworm (strongyles) as required (your prescriber will advise whether a treatment is required based on the faecal egg count result).
Once or twice per year. Administer a tapeworm treatment or consult your vet about conducting a separate tapeworm test using a blood or saliva sample.
NOTE: Foals and yearlings are more susceptible to the threat of worms and, in general, will need dosing more frequently than adult horses.