Cubs born at the end of May to mother Dominika and father Marty are doing very well, say park keepers.
Keepers at Highland Wildlife Park near Inverness have announced the first litter from its two Amur tigers is doing extremely well.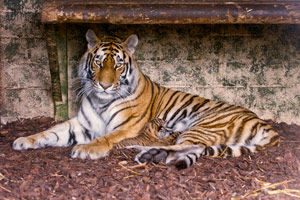 Born on May 28 (2013), the cubs belong to mother Dominika and father Marty, the latter of which arrived from the Czech Republic last year. Amur tigers are extremely endangered and it is thought only 450 of them exist in the wild – a population under threat due to habitat loss and poaching.
Head keeper at the Highland Wildlife Park Una Richardson said: "We could not be more delighted that Dominika has given birth to two beautiful cubs. Every animal birth is special, but perhaps none more so than an Amur tiger birth.
"We had hoped that male Marty, who arrived just over a year ago, would make a good mate for Dominika, and we are delighted to have been proved correct. The pair live and feed together in their enclosure and have been spotted mating since the beginning of this year. The fact our tigers feel relaxed enough to breed and rear a litter in their home in the Highlands makes us extremely proud that we have created an environment for them that meets their needs.
"Things do not always go smoothly with big cats and their first litter; however Dominika has taken well to being a mother. Everything looks very positive and the cubs look healthy and well."
Dominika was born at the Highland Wildlife Park in May 2009 – one of three cubs born to female Sasha and male Yuri. Her sister Natalia and brother Vladimir have since moved to other collections as part of a vital breeding programme for the species.
For more information on Amur tigers, visit the Highland Wildlife Park's website.