A project to produce a consensus statement on the growing tick-borne disease risk to animals and humans has been launched.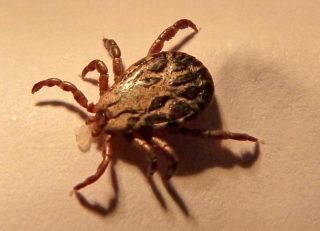 The idea is for all strands of UK veterinary and human medicine and industry leaders to come together to help protect pets and people from tick-borne disease.
Key opinion leaders from the human and animal health sectors met in Birmingham to hear the latest science on ticks and work on a draft version of the statement.
It is hoped, as time goes on, more organisations will become signatories to the final document, which will be fronted by the independent European Scientific Counsel Companion Animal Parasites (ESCCAP) UK and Ireland.
Consensus needed
Head of ESCCAP UK and Ireland Ian Wright said: "There is a general and accurate perception that the risk of tick-borne disease is going up through increased movement of people and pets, distribution of vectors and increased exposure to all sorts of tick-borne diseases.
"This has been represented in the media and, as a result, there are lots of people asking the veterinary profession, medical practitioners, drug companies and independent parasite organisations for advice.
"At the moment, we're all doing our best. We have an evidence base to go off, but we're all coming at it from slightly different angles. What we need is a consensus. We all need to be giving the same, clear, consistent advice so we don't confuse people.
"If people are getting the same advice from all organisations, it sends a very strong message. It suggests it's an important issue that so many different organisations are involved, but also that there's a clear way to tackle it, and we're on the same page and working together."
Read more about the project in the 25 July issue of Veterinary Times.