Feline physiotherapy is being underused in practice, according to a leading veterinary physiotherapist.
Feline physiotherapy is being underused in practice and VNs have a vital role in promoting it, according to a leading veterinary physiotherapist.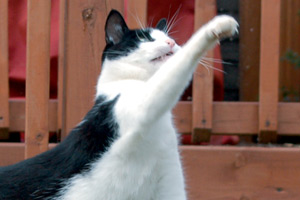 Speaking at the 2013 International Cat Care conference in Windsor on October 5, 2013, RVC lecturer and practitioner Brian Sharp talked delegates through the legal situation regarding veterinary physiotherapy and the various self-regulating industry bodies, before outlining some of the techniques used when rehabilitating cats.
Speaking to Vetsonline after his presentation, Mr Sharp called on more nurses to investigate feline physiotherapy and promote it among colleagues.     
He said: "Feline physio is under-utilised at the moment and there is definitely the potential for more to happen.
"Most veterinary physios are more than happy to treat cats, it's just whether they actually get the referrals through – 95% of referrals to physios are for dogs. But it's not that cats aren't having the same sorts of operations and post-op or injury management needs, so in my mind there's no doubt there's a huge potential for more feline physio and VNs really are in a prime position to help here.   
He added: "I've been lecturing to nurses for years about physio – it used to be a novel thing – but more and more nurses are becoming aware of it and getting training up properly, as vets have often allowed nurses to take charge of rehabilitation in practice.
"Nurses pushing canine physio over the years has really had a knock-on effect, and now, if more nurses see there's a need for feline physio then, hopefully, that will spread as well."
Mr Sharp urged nurses to "get trained up" to practise feline physiotherapy, or refer feline patients to practitioners registered with the Association of Chartered Physiotherapists in Animal Therapy or the National Association of Veterinary Physiotherapists.