All UK vets are asked to be aware of possible cases of feline thiamine deficiency after Pets at Home withdrew sale of certain products of its own-range senior cat kibble products.
In a statement, the company said: "Pets at Home has taken swift action to remove from sale certain products from the AVA range of dry cat food ahead of making a voluntary public recall of these products."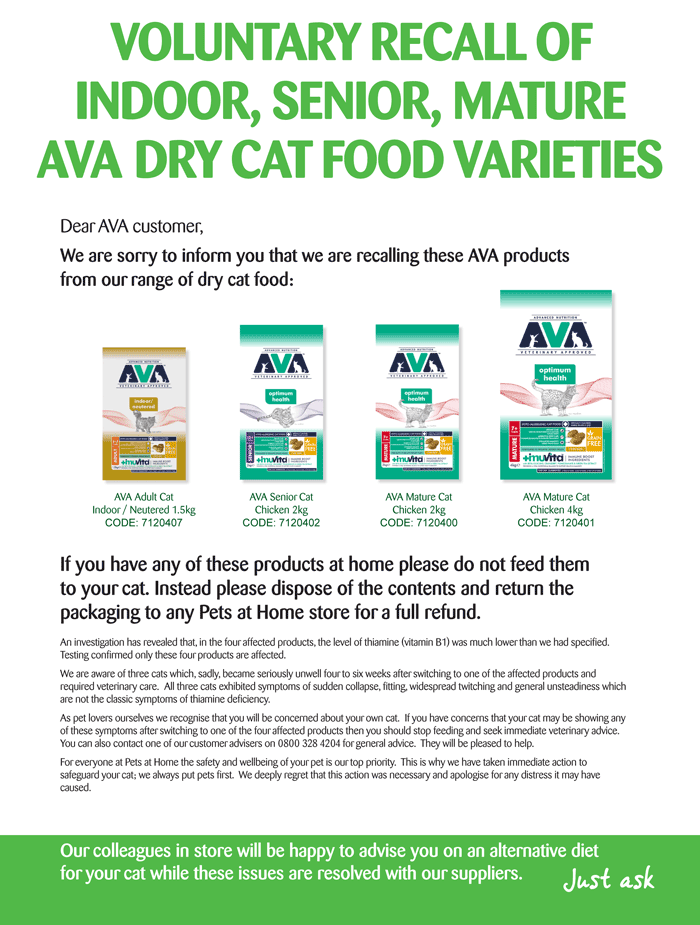 The affected products are:
AVA Adult Cat Indoor/Neutered 1.5kg (code 7120407)
AVA Senior Cat Chicken 2kg (7120402)
AVA Mature Cat Chicken 2kg (7120400)
AVA Mature Cat Chicken (7120401)
'Lower than specified' level
The statement continued: "The reason for this recall is, following concerns raised by a customer that her cat had become seriously unwell after it was switched to an AVA diet, Pets at Home's investigations found, in the affected products, the level of thiamine was much lower than specified. All other AVA products were shown to have the expected level of thiamine when tested.
"During its investigation, Pets at Home was made aware of three similar cases by specialists at the RVC. One case showed some cervical ventroflexion, but the company wishes to alert vets that the predominant clinical signs were sudden onset ataxia, collapse, seizures, nystagmus and leg splaying.
"While these are well-recognised signs of thiamine deficiency, there are many more common causes for these clinical signs, and so, vets may not put thiamine deficiency high on their list of differentials."
RVC cases
Sarah Stewart, staff clinician in small animal internal medicine at the RVC, responded: "The RVC has recently diagnosed three young cats with clinical thiamine deficiency, suspected to be a result of exposure to a thiamine-deficient commercial dry cat food. Diagnosis was confirmed based on a combination of typical clinical signs associated with this condition, classic changes in the brain documented on MRI scans and rapid clinical response to thiamine administration.
"All three cats treated at our hospital survived, but one patient has persistent neurologic deficits six months post-diagnosis that will likely be permanent as a result of the structural damage to the brain caused by thiamine deficiency."
Read the full story in the 13 March issue of Veterinary Times.