The Queen officially opened the University of Surrey's new school of veterinary medicine today (15 October).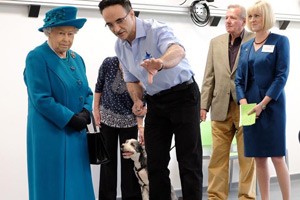 The Queen and the Duke of Edinburgh's tour of the £45 million school saw them visit the large animal clinical skills building, observe teaching sessions and meet students. The Queen also unveiled a plaque.
University vice-chancellor Michael Kearney said the institution is honoured to welcome the Queen.
"The school of veterinary medicine further cements our position as a world-class institution delivering cutting-edge teaching and research from state-of-the-art facilities,"
Prof Kearney said. "It will not only provide the next generation of sought-after veterinary graduates, but will offer significant opportunities for collaboration between human and animal medical science professionals and public sector organisations."
The school of veterinary medicine is only the second vet school to open in the UK since 1965.
"Supervet" Noel Fitzpatrick met the royal party alongside some dogs that benefited from prosthetic limb surgery.
The institution says the new facilities are integral to the school's innovative approach to veterinary education, putting veterinary professionals, government agencies and industry at the heart of its teaching and research.
The University of Surrey welcomed its first cohort of students in 2014.