New trial to look at how the experiences of pregnant goats impacts on the behaviour and health of their offspring in later life.
Researchers at Scotland's Rural College (SRUC) have been looking at how the experiences of pregnant goats can affect their offspring later in life.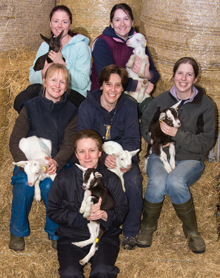 The study is part of a European project aimed at informing livestock farmers around the world how good welfare can have positive benefits for their animals and the productivity of their businesses.
A team led by SRUC animal welfare researcher Emma Baxter is studying 80 kids in a dairy goat herd near Edinburgh. The aim is to find out whether the kids born to nannies handled in different ways during the sensitive middle stage of their pregnancies – when the kids' brains were developing – learn and react to stress in different ways.
All the experiences of the pregnant goats reflected what could commonly happen in real farm settings around the world. "Positive" handling involved the researchers interacting with the goats at routine rather than random times, avoiding eye contact with them, speaking in quiet voices and making slow, controlled movements. "Negative" handling included interaction at random times, looking the goats in the eyes, speaking in louder voices and swifter, unpredictable movements.
Dr Baxter explained: "We expect to find the kids born to positively handled nannies develop more quickly and are less fearful than those born to negatively handled mothers. If that is the case, our findings will be used to help inform goat farmers about the best ways to care for their herds if they want the healthiest and most productive animals.
"We already know from previous research at SRUC and elsewhere that the way pigs and sheep are handled can influence both their welfare and the welfare and development of their offspring. The dairy goat has generally been overlooked in this field of research, but since farmed goats experience daily interactions with humans we want to understand how the quality of these interactions affects the animals."
The project is part of the SRUC-coordinated AWIN project, which involves 10 partner institutions across nine European countries developing welfare assessment protocols for sheep, goats, horses, donkeys and turkeys.