The BVA and BVNA have launched a new campaign championing the value of the veterinary team and encouraging the veterinary family, UK governments and the general public to show their support for "team vet".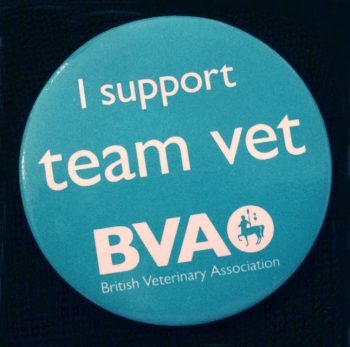 The "I Support Team Vet" campaign is being launched against the backdrop of Vet Futures and VN Futures and in response to the EU referendum result, at a time the associations say has become "even more critical to highlight the essential role of the veterinary team in animal health, animal welfare and public health".
Priorities
According to the associations, the UK veterinary profession relies heavily on EU graduates, with around 50% of veterinary surgeons registering to practise in the UK each year coming from overseas.
The campaign comes after more than seven months of lobbying by BVA, working with the RCVS, to ensure the profession's priorities are on the UK Government's agenda in forthcoming Brexit negotiations.
BVA president Gudrun Ravetz said: "Brexit has brought issues like the value of the veterinary team and workforce into sharp focus. At this time, it has never been more important for the veterinary family to pull together and emphasise the invaluable contribution that veterinary teams across the UK make across all areas of veterinary science, including the fields of animal health and welfare, animal disease surveillance, scientific research and education, wildlife conservation, and public health and food safety."
Get involved
BVA and BVNA are encouraging veterinary surgeons, veterinary nurses and the wider veterinary team, as well as veterinary clients, colleagues and members of the public, to get behind the campaign by wearing an "I support team vet" badge.
The campaign can be supported in a number of ways, including:
Wearing the badges, available for free at BVA's stand (217) at BSAVA Congress or by emailing marketing@bva.co.uk – badges will be sent in multiples of five.
Encouraging family, friends, and clients to wear the badges, displaying them prominently in your practice or place of work
Sharing the campaign on social media using @Britishvets and #teamvet, as well as downloading the team vet Twibbon to your profile at https://twibbon.com/support/show-support-for-team-vet
Write to your MP and encourage them to support Jim Fitzpatrick's early day motion highlighting the value of the veterinary profession in protecting animal health, welfare and public health – a template letter is available on the BVA website.