Tree-climbing anteater with poor eyesight gets special treatment for late night opening at London Zoo.
A fun-loving anteater will be given her own minder during a series of late night events at London Zoo this summer.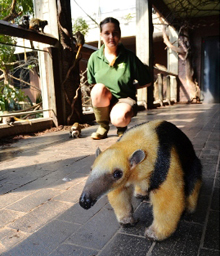 Tammy the 12-year-old tree-climbing anteater is famed for her friendly disposition – and with a fondness for ambling around the public walkways of her exhibit after hours, she's sure to be greeting visitors at the upcoming Zoo Lates events.
But with naturally poor eyesight, tree-climbing anteaters have a tendency to be on the clumsy side and Tammy is no exception.
To safeguard the fluffy blonde and black resident and steer her past any errant feet in the free-roaming exhibit, zookeepers will be giving Tammy a helping pair of hands.
Keeper Caroline Westlake said: "Tree-climbing anteaters are most active in the mornings and evenings, making Zoo Lates the perfect opportunity for visitors to see Tammy scaling the branches and investigating her home.
"To make sure she can go about her business exploring Rainforest Life, we're providing Tammy with her very own minder to gently guide her around our evening visitors. We're now keeping our fingers crossed that the A-list treatment won't result in any diva-like behaviour."
Now in its third year, Zoo Lates sees thousands of post-work revellers descend on London Zoo for an adults-only Friday night of amazing animals, and grown-up fun including giant ball ponds and improvised comedy.
Tickets are on sale now and up to 40% discounts are available through online booking, plus 50% off for groups of 10 or more. book now at www.zsl.org/zoolates