Veterinary students from The University of Nottingham have examined 400 of the Queen's military horses alongside British Army vets and soldiers to conduct a screening programme for a potentially life-threatening equine disease.
After six days examining the equids, and making decisions about their treatment and care, both units were declared strangles-free.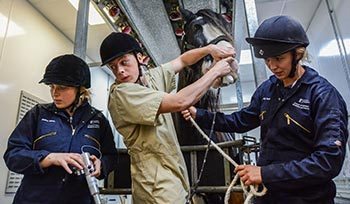 Gayle Hallowell, from The University of Nottingham School of Veterinary Medicine and Science, supervised the group of 30 third-year, fourth-year and final-year students, along with colleague Mark Bowen and the Army veterinary teams.
They were invited to the London bases, along with a small number of fellow veterinary students and staff from the RVC, to undertake the task.
Drive and dedication
Major Harriet Church of the Household Cavalry Regiment said testing the large number of military horses based in London would have been impossible for regimental vets to tackle in a realistic time period, without The University of Nottingham's students and clinicians.
"Their drive and dedication ensured every single horse could be tested and treated," she said.
"The work undertaken by the regiments and The University of Nottingham epitomises the passion both organisations have for the health and welfare of our horses. This commitment ensures we can continue to deliver ceremonial duties to the highest standards."
Screening
Dr Hallowell said it had been a rare opportunity for the students to get hands-on and put their practical equine skills through their paces with real working animals in a fast-paced and challenging working environment.
"They were given a huge amount of responsibility and really stepped up to the mark," she said.
"Not only will the experience allow them to demonstrate real transferable skills to future employees, but they have played a vital role in ensuring these horses are fit and protected for the 21st century."
A new hygiene strategy has been developed for the regiments with advice from Nottingham's vet academics in a bid to prevent reinfection.