Charlotte Torrance and Gregory Steele scoop prestigious health management awards.
Two students have received the Royal Association of British Dairy Farmers (RADBF) Health Management Award.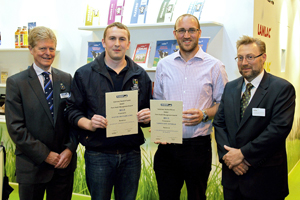 Charlotte Torrance, an FdSc Agriculture student at Plumpton College and Gregory Steele, a student at the University of Cambridge veterinary school were each awarded a £500 cash prize during a presentation at the Livestock Event.
Sponsored by Volac, the awards aim to raise awareness in younger members of the industry.
The award was open to agriculture and veterinary students, and required them to write a 1,500 word essay on proactive farm health management – a key element of the UK's Animal Health and Welfare Strategy.
Each entrant was asked to demonstrate an understanding of the environmental effects of disease and its likely impact on meat and milk quality, comment on the overall progress of the national health planning and management initiative and discuss the differences among the various livestock sectors and how one can learn from another.
Essays were judged by a panel featuring dairy farmer and RABDF council member, Derrick Davies, vet Andrew Praill, and John Sumner, dairy consultant and award chairman.
Mr Sumner said: "This is the award's sixth year. We widened the remit this year thus increasing the challenge. It is however evident from the essays that the level of understanding of the meaning and consequences of taking a proactive approach health management continues to increase amongst both sets of students.
John Reynolds of Volac added: "As first-time sponsor of this award, it has provided us with the opportunity to stress the importance of taking a holistic approach to best practice in livestock management.
"We would like to commend each of the finalists for having an awareness of the importance of adopting a proactive approach to farm health management covering all aspects, from biosecurity and environment to housing and nutrition. We are confident that this awareness will be of huge benefit in their future careers."
A certificate was presented to the two other finalists short-listed for the award: Victoria Kirby, an Extended Diploma in Agriculture student at Myerscough College and David McFarland studying at Glasgow Vet School.