AMTRA secretary Stephen Dawson said it is 'vitally important' pet owners get the right advice on routine treatments and that such advice can come from SQPs.
The Animal Medicines Training Regulatory Authority (AMTRA), the regulatory body for Suitably Qualified Persons (SQPs), has welcomed calls for greater numbers of SQPs.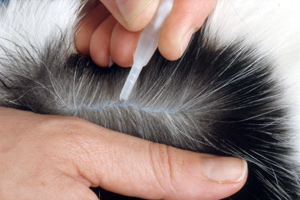 The call by charity International Cat Care comes after it launched a campaign to reclassify permethrin-containing dog flea products as NFA-VPS following a spate of serious incidents where cats have been given the wrong treatment against fleas.
NFA-VPS products do not require a prescription, but can only be purchased if there is someone in the shop who is suitably qualified to speak to and advise the buyer.
AMTRA secretary Stephen Dawson said it was "vitally important" pet owners get the right advice on routine treatments, and such advice can come from SQPs, who are professionally qualified animal health advisors."
Mr Dawson said: "I am worried by reports of serious damage to the health of cats, and even deaths, after their owners have used flea treatments on them which were developed for dogs.
"Because many wormers, flea and tick treatments are so readily available, pet owners can underestimate how powerful they are. Permethrin-based treatments, for example, have been developed for dogs, but are very dangerous for cats.
"The job of SQPs is to ensure owners always get the right advice in caring for their animals. Indeed, a key benefit of the extension of the profession to companion animals was to help ensure pet owners have the correct information on routine treatments. SQPs are required by law to participate in regular CPD, as a result, their advice is reliable and up-to-date."
According to Mr Dawson, more than 5,000 SQPs are employed around the country and their advice is "freely available" in pet shops and country stores, as well as veterinary practices.
"If owners are in any doubt, they simply have to ask," he said.
A list of stores employing SQPs can be found on the VMD's website.
For more on ICC's campaign or to sign its petition for reclassification, visit the ICC website.