With compulsory microchipping for dogs coming into effect in the UK from 6 April, Bayer Animal Health has produced range of materials to help veterinary practices communicate this change to their clients.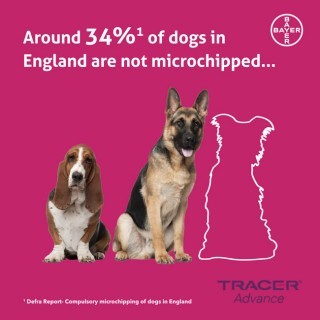 These promotional items include:
a series of social media visual assets
waiting room materials
letter templates
a text reminder service
Need for education
According to a recent survey, 34% of dogs in England are not microchipped, which equates to approximately 2.5 million pets. What's more, 38% of the cat population are still not microchipped, which highlights the need to educate cat owners, who have been overlooked since the new legislation announcement.
According to Facebook, up to 20 million pet owners actively use social media pages. For this reason, Bayer sees Facebook as an ideal platform for practices to reach and engage specific owners in a friendly and targeted way.
Practice opportunity
Hannah Watts, product manager at Bayer Animal Health said: "The new microchipping legislation offers a huge opportunity for practices to increase footfall. While some owners will be aware of the new legislation, many will not, and others may not think it applies to them, which is why veterinary practice outreach to clients is vital.
"Alongside the letter template, waiting room materials and text reminders, the Facebook posts should provide practices with all they need to communicate the benefits of microchipping and the new legislation to their clients."
To receive a copy of the social media assets and to order your marketing materials contact a local Bayer territory manager, or call 01635 563000 for further information.