VetCPD is launching a two-day CPD congress aimed at small animal vets and veterinary nurses, to be held in the World Heritage City of Bath.
The event will take place at the historic Bath Assembly Rooms on 21 and 22 September, and feature separate streams for vets and veterinary nurses.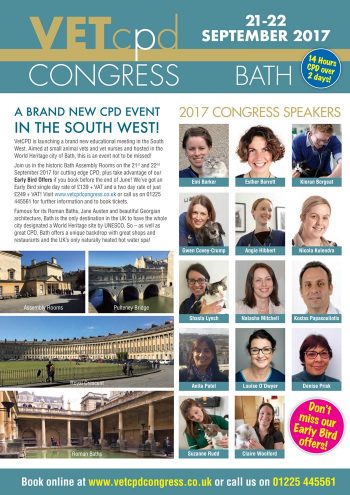 Programme highlights
Running from 9am to 5:15pm on both days, the veterinary programme will include sessions on heart disease, hyperthyroidism and ophthalmology, as well as a series of "how to" sessions, including:
how to recognise pain and provide effective analgesia
how to interpret emergency abdominal imaging
how to get the most from a blood smear
how to get answers from effusion samples
Meanwhile, the dedicated nursing stream will cover a wide range of topics, including:
advanced anaesthetic monitoring
nursing the chemotherapy patient
triage and initial patient assessment
getting a great ECG and interpreting arrhythmias
Veterinary Times reader offer
Delegates can also take advantage of the following Veterinary Times extended early bird rates:
day rate = £139 + VAT (promotional code "VT-ONE")
two-day rate = £249 + VAT (promotional code "VT-TWO")
These rates are valid until 31 August.
To take advantage of these rates – which are valid until 31 August – visit the VetCPD Congress website and use the promotional codes at the checkout. Alternatively, quote the promotional codes by telephoning 01225 445561.
Further details of the congress, including a full programme, are also available at vetcpdcongress.co.uk