A vet from Crete swapped the sunshine of Greece for London streets to spend two weeks observing the work of the Mayhew Animal Home.
Ioannis Fouskis, who works in private practice but also volunteers for the Crete Animal Welfare Society, spent a fortnight training with Mayhew head vet Ursula Goetz and her team as part of The Mayhew International Vet Training Programme.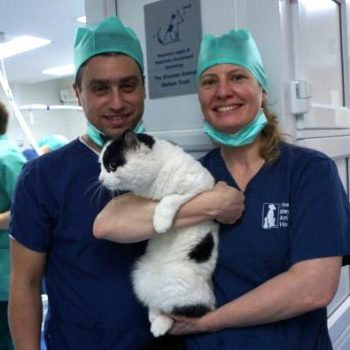 According to The Mayhew, the aim of the progamme is to:
promote safe and secure neutering techniques for animal welfare projects in developing countries
encourage the advancement of animal welfare abroad through education
Many lessons
Dr Fouskis also learned more about the charity's community vet clinic, which provides preventive veterinary care for the people of London.
He said: "I have learned a lot about the improved handling and treatment of animals before and after surgery and also about the sterilisation techniques they use. I have also learned skills and techniques I can take away with me and show other vets working at the charities I volunteer for."
Dr Fouskis said he also "really appreciated" the VNs working at Mayhew.
"In Greece I don't have any VNs to help me during surgery, so I'm now considering training [one] when I get back."
Promoting animal welfare
Mayhew's programme is designed for veterinary personnel from overseas interested in promoting animal welfare in their country.
Dr Goetz said: "We'd like to say a big thank you to Dr Fouskis for taking the time to visit us, and hope he can spread our message of helping animals in need by delivering a broad range of community-based animal care and education programmes for the development of animal welfare in his local community.