A woman involved in the breeding and selling of sick and dying puppies in Solihull has received a suspended prison sentence and been disqualified from keeping dogs for life.
Louise St John Poulton, 42, now of Highgrove in St Albans, appeared at Birmingham Magistrates' Court on 3 April, where she pleaded guilty to six counts of causing unnecessary suffering to dogs and three offences of failing to meet the needs of a number of dogs.
Poulton was sentenced to 22 weeks in prison, suspended for 12 months, and disqualified from keeping dogs for life. She was also ordered to pay £15,000 costs.
The hearing brings an end to a 16-month-long, large-scale operation by the RSPCA aimed at tackling puppy farming in the midlands.
Investigation launched
The animal charity launched an investigation after owners reported buying sick and dying dogs from Poulton and her partner, Sean Kerr, who was convicted and sentenced of the same offences earlier this year.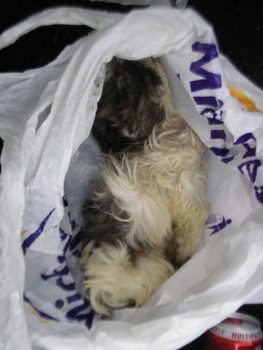 RSPCA inspector Herchy Boal, who led the investigation, said: "We were contacted by people who had bought schnauzers, West Highland white terriers and pugs from a farm in Coventry Road, Bickenhill.
"Many of them had fallen ill within just a few hours and, tragically, some of them died within just a few days.
"Not only did the new owners have to cover hefty vet bills, but they also had to deal with the trauma and heartbreak of watching their new puppies die in front of their eyes."
Warrant
After gathering evidence from a number of people whose puppies had died, the RSPCA and police officers executed a warrant at a farm near Solihull on 22 December 2015.
A total of 37 dogs and puppies found living in the farmhouse and in sheds and stables were removed. Some of the dogs had injuries and health problems. A number were also pregnant, and 27 pups were later born into RSPCA care.
Officers also recovered the body of a dead puppy wrapped in a plastic carrier bag in the footwell of a van parked at the farm.