Scotland's reputation for high standards of animal health could soon be further enhanced if the European Commission declares the country officially free from bovine tuberculosis.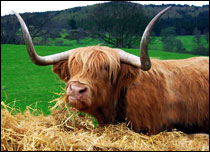 Richard Lochhead, cabinet secretary for rural affairs, has agreed to a formal application to Brussels to recognise Scotland as TB free. Scotland's chief veterinary officer, Simon Hall, will present evidence to support the application during the next meeting of the Standing Committee on Food Chain and Animal Health (SCoFCAH) in Brussels on September 8.
Mr Lochhead said: "Like much of our iconic produce, Scotch beef is recognised the world over its quality. That in part stems the health status of the animals.
"TB free status would be a big feather in the cap for Scotch beef producers and will further improve access to new and existing markets.
"Full consideration has been given to the potential impact of TB free status on the industry and any subsequent checks which would need to be imposed on cattle being brought into Scotland. We are confident that we can minimise any potential impact on the industry."
Mr Hall said: "Bovine TB continues to spread in England and Wales bringing significant cost to affected farmers and increasing the potential threat to Scotland. We need to strengthen Scotland's defence against this disease. If we allowed bovine TB to become established here, the bill for Scotland could easily exceed £5 million a year."