Tests carried out on calves by Scotland Rural College and the Moredun Research Institute have confirmed the presence of the virus just north of England in Dumfriesshire.
The first confirmed case of Schmallenberg (SBV) has been found in Scotland on a Dumfriesshire farm.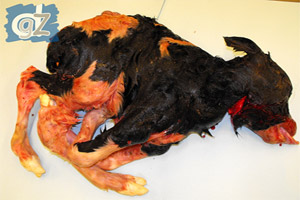 Birth defects found in a calf, born into a suckler herd, are consistent with the pathology of the disease and tests carried out by SAC Consulting: Veterinary Services (a Division of Scotland's Rural College) and the Moredun Research Institute, have confirmed the presence of the virus.
SBV is related to a known virus called Akabane, which is spread by midges and which classically causes brain defects and foetal malformations, particularly deformities of the limbs.
It was first detected near Schmallenberg in Germany in 2011, but subsequently spread into other parts of Europe and was first reported in the south of England early in 2012. Since then there have been outbreaks amongst lambing flocks and calving herds in other parts of England and Wales. The effects can be variable with some farms suffering high lamb or calf mortality while other herds or flocks suffer few effects.
It was recently reported that blood tests on eight dairy cows on SRUC's Barony Campus outside Dumfries had tested positive for antibodies to SBV although there has been no evidence of any calving problems with that herd.
Scotland's Rural College, Brian Hosie, head of SAC Veterinary Services, said: "The report of this recent calving in Dumfriesshire would indicate that SBV was spread by midges in the area during last autumn. We would urge farmers to be more alert than ever to potential problems amongst cattle or sheep and discuss any concerns with their veterinary surgeons."

SBV is not notifiable in the UK and no restrictions are placed on infected premises.
Information issued by SAC Consulting: Veterinary Services and Moredun outlining the possible impacts of the disease and best practice guidelines for those sourcing stock from risk areas can be found here and here.
Image © dgz-Vlaanderen