Sashi becomes a mum for the first time at the age of 11 as Whipsnade Zoo celebrates its first yak calf for more than a decade.
Maybe it was juggling a career as one of Whipsnade Zoo's top attractions while trying to find the right partner that meant Sashi the yak took so long to become a mum.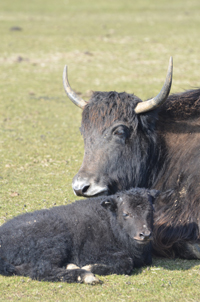 Whatever the reason, staff had all but given up on her chances of giving birth.
Female yaks generally have young for the first time at three or four and reach their reproductive peak by the age of about six.
However, despite having to wait until her 12th year to celebrate Mother's Day for the first time, last Sunday Sashi finally got her chance when her son made his first public appearance.
The four-week-old calf, whom keepers have named Zak, was born in the early hours of February 8 and after finding his feet early, he has been busy exploring the zoo's Passage Through Asia paddock, where he lives in the company of camels, deer, antelope and the rest of the yak herd.
Donovan Glyn, Asia section team leader, said: "It was a big surprise that mum gave birth at the age of 11, but she's doing an excellent job considering it's her first time and we're hopeful this could mean more births in the future.
"Zak's settled into the herd really well, he's already grown in confidence with the help of mum and his aunties who are on hand to help out with babysitting duties."
Zak wasn't the only animal at Whipsnade celebrating his first Mother's Day on Sunday – three-month-old greater one horned rhino Jamil was also enjoying some quality time with mum Behan, while red panda Tashi, was showing off her nine-month-old twins, Yin and Yang.