A registered vet nurse at The Pets'n'Vets Family practice in Glasgow has been appointed BVNA Scottish regional coordinator.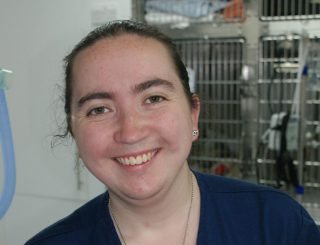 Caitlyn Cannon, who runs nursing CPD from the new Roundhouse Veterinary Hospital in Glasgow's Southside, is committed to expanding her own knowledge base and, in her new role, encouraging others to do the same.
'Delighted'
She said: "I'm delighted to be appointed BVNA Scotland regional coordinator and while I already have some ideas for CPD topics, I am very keen to hear if there is anything specifically veterinary nurses would like to learn about.
"By continuing to develop our roles and knowledge as nurses, we can help promote the status of RVNs, and I am pleased to be able to play an active role in that process."
Valuable contribution
Pets'n'Vets partner Oliver Jackson said: "Congratulations to Caitlyn for taking on this voluntary role which provides a valuable contribution to the continual development of the veterinary nursing profession.
"As a partnership, we know her contribution to the BVNA will be just as successful as the contribution she has made to The Roundhouse Veterinary Hospital since joining us earlier this year."