A scholarship has been created that will enable Emirati students to study veterinary medicine at the Royal Veterinary College.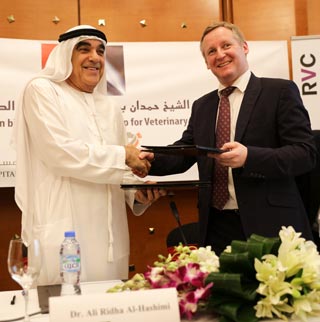 A Memorandum of Understanding was signed by RVC principal Stuart Reid and Dubai Equine Hospital administrative director Ali Ridha Al Hashimi.
Specialist aim
The Sheikh Hamdan bin Mohammed Scholarship for Veterinary Medicine has been created to support the United Arab Emirates (UAE) vision for delivery of veterinary care in the region.
Dr Ali Ridha Al Hashimi said: "Our aim, in the next 20 years, is to have at least 60% of the UAE veterinary profession covered by Emirati nationals. They will be specialised in various fields, such as equine, camels, small animals, falcons and different specialisations in the field of pathology."
Commenting on the agreement, David Church, vice-principal for learning and student experience at the RVC, said: "We are delighted the RVC has been chosen to provide the training programmes for the recipients of Dubai Equine Hospital's scholarship programme.
"We hope this will be the beginning of an increasing level of collaboration, which will see ongoing involvement of the RVC in undergraduate and postgraduate education not only in Dubai, but the region generally."
Global recognition
Mayor of London Boris Johnson was delighted at the news. He said: "London represents a world-leading offering in higher education – the RVC is an integral part of that offering and it's great news this is being recognised around the world."
The official ceremony was attended by Prof Church, director of RVC Access Nina Davies and representatives from Dubai Equine Hospital, UAE schools and UAE colleges and universities.