A study has shed light on African wild dog hunting strategies that will help conservation of the endangered species.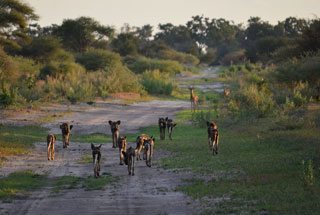 The study, led by researchers at the RVC Structure and Motion Laboratory and Botswana Predator Conservation Trust, revealed African wild dogs in mixed woodland savannah habitats may be more energetically robust than previously thought, due to their hunting strategy of frequent, opportunistic and short chases.
In two papers published together in Nature Communications, the group use high-resolution position and speed data collected by custom-built GPS collars to reconstruct hunt behaviour of an entire pack of African wild dogs in northern Botswana.
The data showed short, individual high-speed chases. The pack showed no evidence of cooperative hunting beyond travelling together and sharing the kills made by an individual dog.
They did not hunt in any special formation, nor did they have specialised roles in the chase.
Contrary to common conceptions about African wild dogs living on a knife-edge in terms of energy balance, this particular hunt strategy is said to give the dogs a surplus of energy to live and support young.
Understanding the hunting strategies of a species helps conservationists to identify the areas that should be protected or where new populations can be reintroduced most successfully.
To compare the energetic costs and returns of this opportunistic hunting strategy with the more athletic, high-investment hunting strategy of the cheetah, the group also populated their energy balance model with data collected from free-ranging wild cheetahs in the same study area.
They found although an individual cheetah is more successful than a single African wild dog, the ratio of energy gain to energy cost for the whole pack is twice as high as that achieved by the individual cheetah.
A video about the team's research is available online.