Today (14 June) is World Blood Donor Day and to celebrate, the RVC – which has the busiest animal hospital blood donor programme of its kind in Europe – has created a Blood Donor of the Year award.
This year's winner is Raisin the Labrador retriever, who donated blood to eight dogs through the RVC's programme during his two years on the scheme.
Wonder dog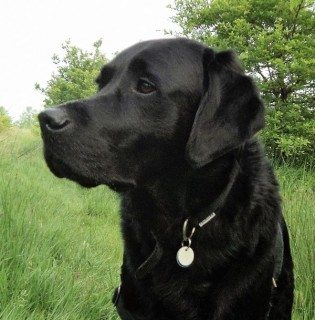 According to RVC, Raisin is a true hero – not only is he a blood donor, he is also a hearing dog for his owner Ann Fort. He joined the RVC's programme because she has been unwell and has received many blood transfusions herself.
Ann wanted to give back, and while she couldn't donate Raisin could. So, not only has he been a day-to-day lifeline for her, he has helped other dogs too. Raisin retired from donating at Christmas, but will be returning to the RVC to receive his award.
The RVC created its blood donor programme in 2005 to address the demand for dog and cat blood at its small animal referral hospital – the Queen Mother Hospital for Animals (QMHA).
Demand has increased, particularly given the complexity of the treatments offered by the hospital – such as open-heart surgery, emergency and critical care, and cancer treatment.
Improving transfusions
The RVC's blood donors are pets of local people and put through a rigorous screening process to ensure they are comfortable with donating blood and are healthy enough to do so.
There are currently 90 canine donors and 30 feline donors registered at the QMHA.
The RVC is also leading the advancement of transfusion medicine. Thanks to funding from the RVC's charity, the RVC Animal Care Trust (ACT), the blood transfusion service has not only received cutting edge equipment for the service, but has also facilitated research projects into transfusion medicine – including one looking at how effective feline transfusions are and how to optimise them to make sure donations are used effectively.
Money well spent
ACT funding has also allowed the development of pioneering techniques, with the RVC Transfusion Medicine Service storing feline blood from 2015.
Previously, when a cat needed a transfusion, a cat blood donor needed to be called to the hospital, as the storage systems available were not sterile. However, the RVC's transfusion medicine team were able to design a new system, meaning, as with dog blood, cat blood is available when required, even in the middle of the night.
Dan Chan, professor of emergency and critical care medicine, said: "The RVC's blood donor programme is an incredibly important part of what we do at the QMHA. Over the past year alone, hundreds of animals' lives have been saved at the QMHA through blood donations and this number is increasing year-on-year."