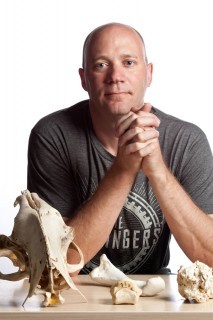 The RVC's resident dinosaur expert has been helping renowned wildlife expert David Attenborough solve the biggest dinosaur mystery in history.
Prof John Hutchinson has been contributing to a forthcoming BBC documentary that recounts the discovery of the world's largest known dinosaur.
Attenborough and the Giant Dinosaur will air on BBC One on 24 January.
Chance discovery
The documentary tells how a chance fossil discovery on an Argentinian ranch in 2013 led to one of the biggest dinosaur digs in palaeontology's long history. The findings of the dig have led to the reconstruction of the largest dinosaur known to date – a new species of titanosaur.
Titanosaurs are a legendary group of massive dinosaurs (the biggest known to science) and have become synonymous with Argentina where they were first discovered.
The calculations and reconstruction of the newest member to the group puts it at 37m long – which is nearly as long as four London buses put end to end – and weighing 70 tonnes. It is the biggest (as yet discovered) animal to walk the earth.
Forensic investigation
The documentary was filmed over the two years following the discovery. Using contributions and testimony from experts, such as Prof Hutchinson, Sir David follows the forensic investigation and witnesses the uncovering, cleaning and examination of the fossils for the first time.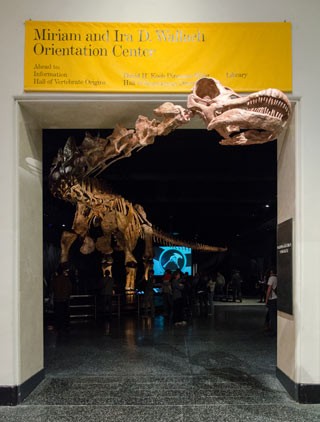 Using state-of-the-art graphics, it also reveals what scientists think the internal structure of a dinosaur looked like and how it worked.
In the film, Prof Hutchinson, other palaeontologists and comparative anatomy experts study the fossils to see what the bones reveal about the lives of these dinosaurs with the help of 3D scanning, CGI visuals and animation.
Huge project
Prof Hutchinson said: "This was such an exciting project to be a part of. Every aspect of it has been huge – literally.
"The initial fossils discovered to spark the search were the biggest of their kind, then the dig that followed was the largest dinosaur dig for 100 years, and it led to my colleagues discovering this huge dinosaur.
"The world has always been fascinated by these ancient animals and this documentary will show the audience how the biggest land animals of all time were uncovered and rebuilt.
"I was very happy to show how the work I've done on the biology of elephants helps inform the study of other animals."
Dr Diego Pol, lead scientist on the excavation based at Museum of Paleontology Egidio Feruglio, Trelew, Argentina, said: "It was like a paleontological crime scene; a unique thing that you don't find anywhere else in the world with the potential of discovering all kinds of new facts about titanosaurs."
Featured image and video clip: BBC