Lecturers and students old and new attend RVC celebrations to mark a decade of it's BSc in bioveterinary science.
The RVC is celebrating the 10th anniversary of its bioveterinary science programme this month.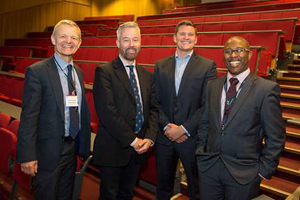 Among the highest ranked biosciences degree in the UK, the Guardian University Guide rates the course top for employability of graduates, with 85% gaining industry relevant employment within six months.
This week (June 24, 2013) the Society of Biology accredited the course in the Whole Organism Biology category.
The degree places emphasis on students applying science, and learning hands-on laboratory skills while developing their knowledge of research processes. 
An anniversary celebration held at the college allowed students to meet those who completed the degree over the past 10 years, with college vice-principal for learning and the student experience David Church and current course director Donald Palmer welcoming returning alumni to a drinks reception before course lecturers and external guests gave speeches.
RVC deputy principal Stephen May was one of the key architects of the course and taught the first cohort.
Speaking at the event, Prof May said: "Our philosophy in developing the course was about learning and education for science rather than learning and education about science. We wanted students to see the big picture – how science works, how to frame questions and how you can develop methods that answer those questions."
He added: "We wanted engaged students – students who were going to argue back when we challenged them with new ideas. We wanted the course to not just be about discovering facts, but we wanted to engage students in the scholarship of integrating knowledge, adapting it and applying it to their careers.
"We also wanted to provide students with relevant 21st century skills to be able to deal with the world."
One of the early course lecturers, Gary Baxter, who is now professor of pharmacology at the University of Cardiff, returned to the RVC for the event.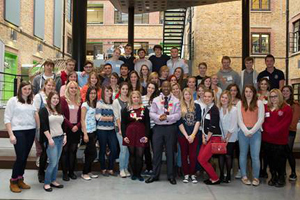 Commenting on the success of the degree, he said: "Biosciences as an educational sector is large and so to achieve seventh place in the league table out of 98 institutions offering biosciences courses is a remarkable achievement within 10 years."
Ricky Martin, the 2012 winner of BBC's The Apprentice, also spoke at the event. Mr Martin, who has a degree in biochemistry, is the founder and managing director of Hyper Recruitment Solutions, a specialist recruitment consultancy for the science and technology sector.
He spoke about career opportunities within the biosciences field and his own career.