The RVC's Beaumont Sainsbury Animal Hospital (BSAH) has been awarded gold standard accreditation by the Rabbit Welfare Association and Fund (RWAF).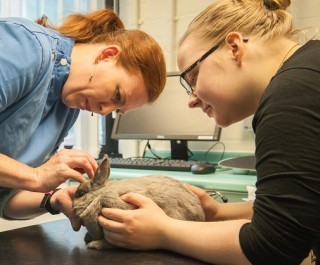 To be awarded the accreditation, the RVC had to pass stringent tests and protocols in rabbit-related care, including making sure the hospital's premises have the appropriate equipment and are "rabbit-friendly".
Rabbit advocate
The hospital must have fully trained staff, as well as a "rabbit advocate" to coordinate policies addressing specific rabbit-related issues within the practice.
The RVC also had to demonstrate it had:
a specialist hospital ward dedicated only to rabbits (and other prey or herbivorous species)
at least one member of staff with an appropriate further qualification in the field of rabbit medicine
a rabbit-friendly waiting room
the ability to hospitalise the animals in a low-stress environment
BSAH veterinary surgeon Nadene Stapleton said: "People often don't realise how much care and attention rabbits actually need. That is why, at the RVC, we also try and educate owners as well as provide the best possible care we can for their pets. That is why it is so important they receive the best care and attention they can get, and why we are so happy to have received this gold accreditation."
Neglect through ignorance
A spokesperson from the RWAF added: "Most cases of cruelty and neglect towards rabbits are out of ignorance. People often don't realise they are doing anything wrong because they haven't done enough research into rabbit care and well-being before choosing to buy a pet rabbit.
"That is why we award our accreditations so rabbit owners know where their beloved pets can get the best care and attention."