EU launches investigation into puppy breeders and traders across the continent where there are growing concerns about welfare standards.
A new study into the puppy trade in Europe has been welcomed by the RSPCA.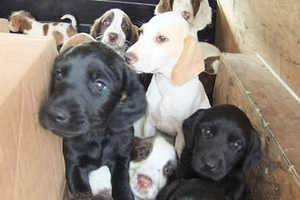 The charity has concerns that dogs and cats within some EU member states are being bred irresponsibly, with welfare standards that fall below minimum standards in the UK.
Joe Moran, the RSPCA's senior parliamentary advisor for Europe, said he hopes the new study by the European Commission could be the first step towards consistent licensing and registration of dog and cat breeders and traders within the European Union.
He said: "The illegal trade of puppies across Europe is big business and one that must be brought out of the shadows.
"Research shows that up to one in five dogs brought in the UK may come via a puppy farm, whether from within the UK or from elsewhere in Europe.
"Many puppies sold from this trade also suffer from severe behavioural problems, meaning they can be very difficult to keep as pets.
"Moreover, some 60% of infectious diseases to humans originate in animals. With puppies being traded illegally across the EU, without proper checks and often in dire conditions, the threat to human and animal health is both present and dangerous."
While the budget granted to the new study may limit the level of data acquired, the RSPCA hopes results can be used to formulate improved legislation and ultimately higher animal welfare standards.
"The work will start in earnest with the new Commission when members come into post in November 2014. However, we hope this study and any input we can provide will show this is a problem that really does need tackling," added Mr Moran.
The RSPCA and Animal Welfare Foundation last year launched the Puppy Contract and Puppy Information Pack, which was created to give buyers the best chance of getting a fit, healthy happy and well socialised pet.