The animal welfare charity was not allowed permission to enter the port to oversee the welfare of animals and says holidaymakers departing from the south east town would be "dismayed" by the "vile trade" taking place.
Dover port authorities have been slammed by the Royal Society for the Prevention of Cruelty to Animals (RSPCA) for not granting charity inspectors permission to enter the port in order to safeguard the loading of a shipment of sheep.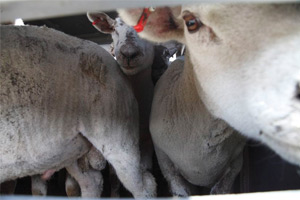 According to the charity, the Russian tank transporter Joline sailed from Dover at 9am on May 3, 2013 with lorries full of animals, and although the charity had applied for permission to be present in the port to oversee the loading of the sheep, it received no response.
The incident comes as the RSPCA continues to campaign against the live trade of animals, following the re-opening of Ramsgate port in October 2012. The port had been closed after a large number of sheep died there, something the charity blamed on a lack of facilities. However, legal action by Dutch exporters caused Thanet District Council to re-open the port.
RSPCA chief executive Gavin Grant said: "People going off on their holidays from Dover port will be dismayed to find out that they are sharing the harbour with huge numbers of live animals being shipped for slaughter. The numbers of sheep leaving from Dover is likely to be much higher than from Ramsgate and the facilities at Dover are no more suitable. The location has changed but the issues remain the same.
"This trade is completely unacceptable, as is the use of an old tank transporter to ship animals across the channel in rough weather and the apparent failure to thoroughly inspect animals at the port. Animals are being placed at risk and we will not let up in our campaign to end this vile trade.
 
"We are seeking an urgent assurance from the Dover port authorities that RSPCA inspectors can be present at future sailings."
Images © RSPCA