The RSPCA said it is "picking up the pieces" as it sees the impact of the rise in demand for designer dog breeds.
The animal welfare charity has reported an increase in the number of popular, fashionable breeds coming into its care. Last year, it rescued a number of pugs and French bulldogs that had been abandoned.
Pug abandoned
One case involved a pug puppy abandoned in a garden in Wimbledon alongside a note reading: "Free pug xxx". The puppy, named Pumpkin by RSPCA staff, was found in a plastic carrier without a door.
Inspector Phil Norman said: "The note indicates Pumpkin had been dumped deliberately, so it may be he was an unwanted pet and his owner didn't realise the amount of work a puppy takes, or they did not want to pay the cost of vet care."
Pumpkin was re-homed by one of the VNs who cared for him.
Dog thrown out of car
The RSPCA was also contacted after a pug was found lying by the side of the road with serious injuries after having been thrown out of the window of a moving car.
The three-year-old, named Crumble, was found collapsed in Writtle, Essex, and was taken to a vet. However, she was paralysed and had organ failure, so was euthanised.
It is believed the bitch had previously been used for breeding as veterinary staff said there were signs she had produced several litters. The RSPCA therefore believe she had been cast aside as she could no longer produce pups to sell.
Huge demand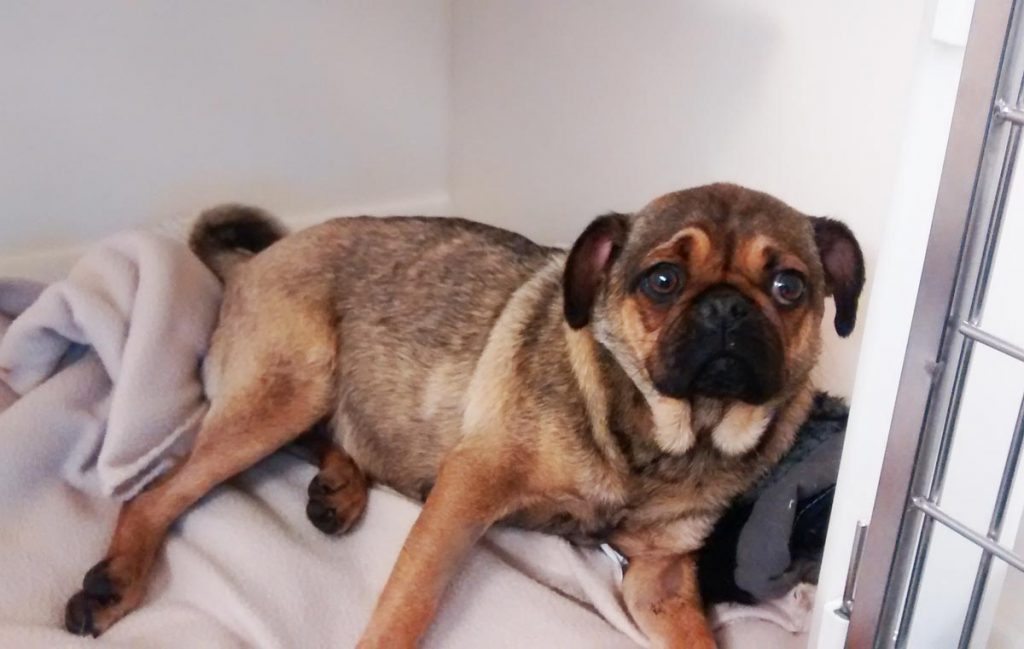 RSPCA chief inspector Ian Briggs, who leads the charity's special investigations into the puppy trade, said: "In this country, we're seeing a huge increase in the number of people buying pugs and French bulldogs, and the RSPCA is starting to see that trend first-hand.
"Unfortunately, as responsible and reputable breeders of these types of dogs cannot keep up with demand, underground breeders and traders are filling the gap in the market.
"[They] are offering buyers the chance to buy puppies at cheaper prices and without waiting lists – often with disastrous consequences."