More lab animals were involved in research and testing during 2011 than in the past 20 years, the Home Office has revealed. In total, 3.71m animals were used in 3.79m scientific procedures.
As the Home Office announces that more lab animals were involved in research and testing in 2011 than in the past 20 years, the RSPCA is demanding that more be done towards reducing both animal numbers and suffering – starting with those animals who currently suffer the most.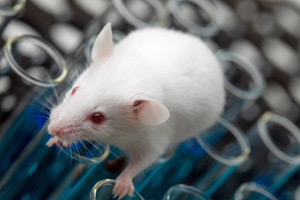 In an announced made yesterday (July 11, 2012) the Home Office revealed that the number of animals used annually in scientific procedures in the UK has increased yet again, now standing at 3.71 million animals used in a total of 3.79 million "scientific procedures".
 
RSPCA senior scientist Dr Penny Hawkins said that reducing numbers is an essential goal, but reducing suffering is just as important.
 
She said: "Each animal bred or used for research, whether a mouse, fish or monkey, is an individual capable of experiencing pain, suffering and distress. Efforts are being made to improve the way animals are cared for and to reduce suffering in experimental procedures, but much more needs to be done. Any level of suffering is a concern for the RSPCA, but ending severe suffering is a top priority.
 
"We want the government to commit to ending severe animal suffering and for scientists to focus on changing these procedures so they cause as little pain and psychological suffering as possible."
 

A new UK law regulating animal research comes into force on January 1, 2013. It will include a requirement for the suffering experienced by each animal to be assessed and reported following every experiment.
The RSPCA believes this new law represents progress (as the current system just requires researchers to report an estimate of the 'average' level of suffering caused during each project), but observing and understanding animal behaviour is not always straightforward, and the RSPCA is concerned that suffering may be under-reported due to concerns about public acceptance of animal use.
 
Dr Hawkins said: "Researchers using animals are going to be responsible for judging and reporting the actual level of lifetime suffering, so it is critically important that all suffering is properly recognised and assessed.
"We hope the scientific community will approach this with open minds and it will probably take time to get it right – but every step forward in reporting suffering will be welcome, as right now we're pretty much in the dark."