More than 100 volunteers have been recruited to trial the RCVS' proposed outcomes-based system of measuring and recording learning and development.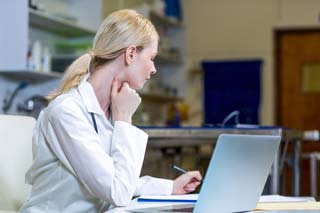 This trial is the result of a six-week consultation held in June 2016, when the college asked for the profession's views on a proposed new system of CPD – one concentrating less on hours logged and more on interactive, reflective learning and measuring the impact CPD has on the individual's practice and patient health outcomes.
Overall majority
An overall majority of the 3,357 people who responded to the college's consultation agreed with the proposed changes to the CPD requirement, although certain elements received less support than others. The lowest amount of support was received for the "reflection" component, with 35% of respondents disagreeing with it.
In response, the RCVS education committee and VN council agreed a pilot of a new outcomes-based approach should be held during 2017 before a full recommendation could be made to RCVS council.
The RCVS council approved this proposal and 117 volunteers were recruited, 60 of whom were able to attend training days hosted by the college on 28 February and 1 March.
Clear and helpful
Vet Gina Dungworth, who attended the training, said: "I really appreciate the acknowledgement of non-clinical CPD practices, and while I was originally sceptical of the proposed system the pilot day has so far been clear and helpful."
RVN Lindsey Raven Emrich, added: "CPD is such a varied part of a veterinary professional's career, and it very much depends on the person how easy it is to do. I find myself doing a lot of reflection as a natural part of reading articles, and I'm hoping this new system will expand that way of thinking into other areas of CPD."
The volunteers will now pilot the proposed system and report to education committee, VN council and RCVS council.