Nick Stace has summarised 15 hours of council meetings into just a few minutes, discussing subjects such as the first-rate regulator initiative and changes to the Practice Standards Scheme.
The chief executive of the Royal College of Veterinary Surgeons (RCVS), Nick Stace, has released his first post-council video blog, where he discusses the findings from a two-day period of intensive Royal College activity.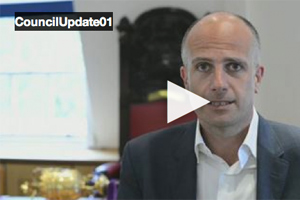 On June 5 and 6 (2013), four key meetings occurred at the college:
an RCVS Charitable Trust board meeting,
a meeting of RCVS council to discuss the first-rate regulator project,
the regular June council meeting, and
a session to consider the future evolution of the Practice Standards Scheme (PSS).
In the video, Mr Stace compresses the 15 hours of meetings into just a few minutes. Subjects covered include:
the agreement to freeze veterinary surgeon and veterinary nurse retention fees for 2014 – the fourth consecutive year this has been done;
the trust's decision to move towards a new name of 'RCVS Knowledge', as knowledge is core to its activities;
the recommendations from the first-rate regulator research, which fall under themes of identity, service and evolution; and,
council's positive backing for the development of the PSS into a more modular, outcomes-focused scheme.
Mr Stace said: "I appreciate not everyone has time to wade through all of the papers and minutes that are available online, so, in the interests of transparency and openness, I hope this potted version will give you a snapshot of what's been going on at Belgravia House.
"Let me know what you think, and, if the feedback is positive, we will do more."
Visit www.nickstaceblogs.org to watch the video.