Three-year project will look at how Salmonella enters and persists in the bovine lymphatic system.
The Roslin Institute has received £660,000 from the Biotechnology and Biological Sciences Research Council (BBSRC) to support collaborative research into how Salmonella enters the bovine lymphatic system.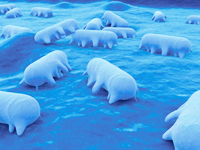 Drug company Zoetis is also backing the research by funding 20 per cent of the three-year project and also providing in-kind services via research materials and expertise.
Researchers at The Roslin Institute and Zoetis will jointly investigate how Salmonella enters and persists within the bovine lymphatic system and can lead to contamination of beef for human consumption.
The team of researchers from The Roslin Institute — which is incorporated within the Royal (Dick) School of Veterinary Studies — includes Mark Stevens, chair of microbial pathogenesis; John Hopkins, chair of veterinary immunology; and Jayne Hope, a leading researcher on bovine immunity and mycobacteria.
They are collaborating with Charles Cornell, technical lead for the Cattle Food Safety Vaccine franchise, Veterinary Medicine Research and Development at Zoetis.
The BBSRC grant also provides funding for a postdoctoral researcher and a research technician for three years.
"Salmonella infections in cattle are significant for two reasons," said Prof Stevens. "It can cause gastroenteritis and abortion in the animals, thereby harming their productivity and welfare, and contamination of beef and the farm environment can lead to infections in people.
"Cattle are a significant source of human Salmonella infections. Although the animal's lymphatic system normally helps fight infection, some types of Salmonella have adapted to evade the immune system and survive in lymph nodes.
He added: "A key gap in our knowledge is how Salmonella enters the lymphatic system in the first place and then persists within it, constraining our ability to design strategies to control infection," Prof Stevens continued.
"We will examine the role of host and bacterial factors in this process and use the results of our research study to identify new and better targets that could help us control Salmonella infections in cattle."