The founders of Romania's first animal blood bank travelled more than 1,000 miles to Harrogate to promote the Romanian Veterinary Emergency and Critical Care Society's (RoVECCS) 2016 Congress.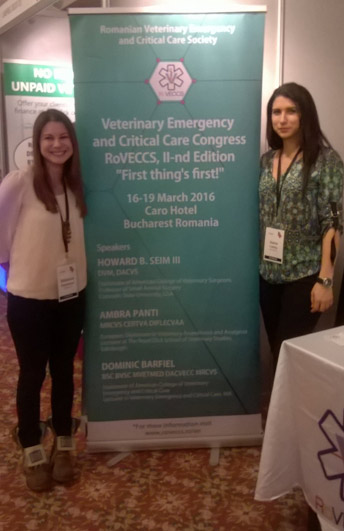 Vets Sinziana Radulescu and Ioana Cafrita took part in the Vets Now Emergency Critical Care UK annual congress exhibition in Harrogate to spread the word about the event.
The RoVECCS Congress will take place in Bucharest, Romania from 16-19 March 2016.
Reduced costs
Ms Radulescu said: "There are a number of reasons why we think this event is a really good option. We have high-quality lectures and the price is really affordable compared to prices in the UK or western Europe, just because the cost of organising a conference is much lower in Romania, which is an advantage."
She added: "It is a beautiful country and everyone who has visited us for work has been really impressed, not just because there are lots of nice places to visit, but because the people are so welcoming."
Line-up
The 2016 congress will include workshops and lectures for vets and veterinary students, covering such topics as:
how to approach the collapsed patient
heart failure
tips and protocols for dealing with blocked bladders in cats
general anaesthesia in septic patients
surgical management of abdominal trauma
surgical repair of the diaphragmatic hernia
Guest speakers include RVC lecturer in veterinary emergency and critical care Dominic Barfield, University of Edinburgh Royal (Dick) School of Veterinary Studies lecturer in veterinary anaesthesia Ambra Panti and American College of Veterinary Surgeons diplomate (Colorado State University) Howard B Seim III.
For more information, or to book a place, visit the RoVECCS conference website.