The Kennel Club will publish the final versions of the revised breedstandards for dogs on October 1, which will help to ensure thatall breeds are healthy, of good temperament and fit for their originalfunction.
All breed standards were initially reviewed by the Kennel Club in January and interim changes were made to 78 of the standards. A six month period of consultation with breed clubs, breed councils and major veterinary organisations ensued, after which further review was undertaken.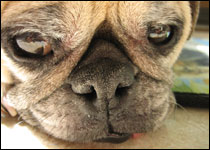 A total of 29 of the interim standards were amended as a result of the points raised during the consultation period and the final breed standards will be available to view online or to download from the Kennel Club website from October 1.
The October 2009 edition of the Kennel Gazette will list the further amendments made. Those standards which were amended in January, to which no further changes are proposed, will not be listed.
Caroline Kisko, Kennel Club communications director, said: "There is absolutely no question that a dog should be able to see, breathe and walk freely and that, furthermore, it should be fit enough to have the ability to perform its original function. The final breed standards make it clear to all that the exaggeration of features for aesthetic reasons, when this is to the detriment of a dog's health, is unacceptable.
"We are very pleased with the positive way in which the breed clubs have worked with us during this process and many of the clubs have come forward with changes that make the breeders' responsibility for ensuring that their dogs are fit for function all the more plain."
The publication of the standards coincides with an announcement by the Kennel Club that it will launch a new "Breed Watch" area on its website, which will serve as a constantly updated alert to all interested parties, but with dog show judges in mind in particular, to any undesirable trends or exaggerations that may be emerging in particular breeds.
All judges will be expected to use the revised standards from October 2009. The breed standards review will thus further the aim to promote fit and happy dogs and DFS Crufts 2010 will continue to be a showcase for healthy, well adjusted dogs.