Scientists believe they may have identified the mystery cause of "shaking piglets" – cases of which have been reported in Europe and abroad since the 1920s.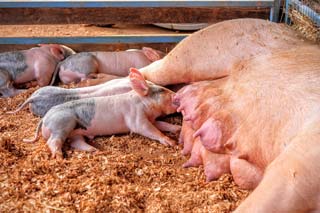 Researchers at the University Clinic for Swine, Institute of Virology, and Institute of Pathology and Forensic Veterinary Medicine at Vetmeduni in Vienna, Austria said they have proved, for the first time, symptoms of tremors and shaking in newborn piglets are not a sign the animals are cold, but rather that they are suffering from a specific viral infection.
New test
Using a newly developed test, the scientists detected a previously unknown virus – termed atypical porcine pestivirus (APPV) – in "shaking piglets", making it possible to clearly diagnose the potentially fatal disease.
The virus remains in the animals for a long time following an infection and may also be transmitted sexually. The findings were published in the journal Veterinary Research.
Challenging early life
First author Lukas Schwarz, veterinary clinician at the University Clinic for Swine, said: "Depending on the severity of the shaking, congenital tremor presents a challenge for the piglets from the first minute of their life. The tremor can sometimes be so severe, the piglet is unable to properly suckle milk.
"Yet suckling is especially important for piglets in the first 24 hours after birth. Only mothers' milk contains everything the animals need to survive. Without the first drink of mothers' milk, piglets have a very low chance of survival."