The challenges facing south Asia's brick making industry in terms of human labour, working animal welfare and the environment have been explored for the first time via a report from three charities.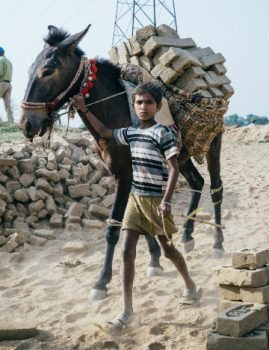 Brooke, The Donkey Sanctuary and the International Labour Organisation worked together to produce the report "Brick by brick: unveiling the full picture of south Asia's brick kiln industry and building the blocks for change".
Raising visibility
The report was officially launched at a regional policy event in Nepal organised by the South Asia Initiative to End Violence Against Children and hosted by the Nepal Government.
It aims to raise the visibility of brick kilns in the region and start tackling the "harmful and often illegal" practices affecting millions of people and the working conditions of hundreds of thousands of animals every day.
The traditional brick making industry is the backbone of urban development throughout south Asia. It employs between 4.4 and 5.2 million people and more than 500,000 working animals, but the work is extremely hazardous and generates highly pollutant emissions. Traditional brick kilns impact on the health of people, animals and the environment, the charities said.
Collaboration
Brooke's head of advocacy and public affairs, and report co-author, Delphine Valette said: "We are putting emphasis on how complex south Asia's brick kiln industry is, and examining the crucial links between human, animal and the environment sectors.
"We hope the report will encourage collaboration between people who have the power to act and start off key conversations that can lead to changing the face of the brick kiln industry."