The UK cat population has increased by 500,000 to 8 million in the past year, driven largely by an increasing number of male owners, according to the Pet Food Manufacturers' Association (PFMA).
The PFMA's first in-depth Pet Data Report showed a 25% increase – which equates to around an extra one million – in the number of men choosing a cat as a pet.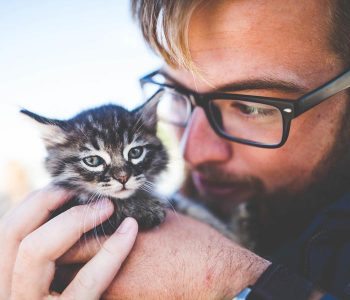 The report, compiled from interviews with 8,000 pet owners across the UK, stated almost as many cat owners as dog owners (8.5 million) now exist.
Overall, the good news for vets is the UK pet population has increased by around 4% year on year.
'Great news for rehoming'
Cats Protection social media manager Gemma Croker said: "Cats have always been on social media, but we have definitely noticed more men openly expressing their love for their feline friends.
"We now see more male celebrities talking about their cats, such as our supporter James McVey from The Vamps (whose cat is called Mickey), Ed Sheeran (whose cat is called Graham) and Russell Brand (whose cat is called Morrissey).
"It is possible this trend may have triggered an increase in popularity for cats among the general male population, which is great news for rehoming."
'Good news for pets'
PFMA chief executive Michael Bellingham said: "Pet ownership is a rewarding experience for everyone. It's wonderful to see men are realising the huge benefits of pets, with an increase in cat ownership in this sector.
"Our research also showed 38% of families with children were considering a small mammal, so it's good news for all pets. We have been conducting our research with TNS since 2008 and have seen many changes in the pet population.
"We are delighted that, in spite of the challenges presented to pet ownership, our population is stable, with a 4% increase to 12 million households owning a pet."
Read the full story on the 17 April issue of Veterinary Times.