Vets are being urged to report suspected cases of jerky treat-related illness to a registry, created to shed more light on the extent of the problem in the UK.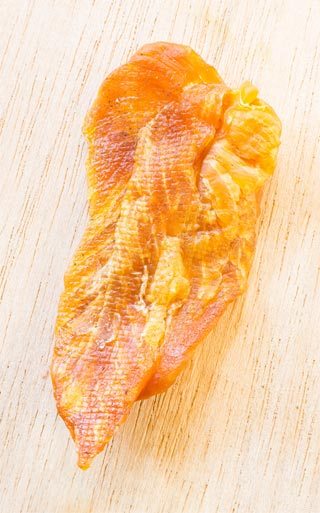 The Veterinary Poisons Information Service (VPIS) said a few cases of Fanconi syndrome, associated with the consumption of jerky treats, have been reported in the UK, but the extent of the problem is unknown.
As a result, the VPIS has created a registry where information can be collected. So far, 11 cases have been submitted.

Cases have also been reported in the US, Canada and Australia. The US cases were reported to the Food and Drug Administration and numerous products were implicated, but tests have not yet identified a cause.
Bigger picture
Nicola Bates, senior information scientist at the VPIS, said: "We would like more suspected cases to be reported so we can get a bigger picture of what is going on in the UK.
"We want to see if there is an issue in the UK with these jerky treats as there has been in the US."
The VPIS requires information regarding the brands of jerky treat involved, the duration of exposure, clinical signs, treatment, investigations and outcome.
Clinical signs
Typical signs reported include polyuria/polydipsia, inappetence, lethargy, vomiting, diarrhoea and weight loss. Common biochemical findings include euglycaemia or hypoglycaemia (in the presence of glucosuria), acidaemia, hypokalaemia and hypophosphataemia (Fanconi syndrome).
According to the VPIS, signs of Fanconi syndrome are often non-specific, which makes diagnosis difficult. Diagnosis is based on excluding underlying aetiologies, a history of jerky treat consumption and the biochemical changes consistent with a defect in proximal tubular function. In addition, fractional excretion of electrolytes and urinary amino acid assays are often abnormal.