RCVS president Jerry Davies offered ten personal observations for a successful professional life as a veterinary surgeon to the 760 UK graduates registering with the Royal College this summer.
Around 760* UK graduates have registered with The Royal College of Veterinary Surgeons (RCVS) this summer, meaning that they can now practise veterinary surgery in the UK – an increase on last year's figure of 708 UK graduate registrations.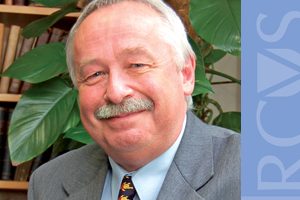 Helping to boost this figure – in addition to graduates from the long-established veterinary schools at the universities of Bristol, Cambridge, Edinburgh, Glasgow, Liverpool and London's Royal Veterinary College – this year's total saw the inclusion of 84 graduates from the School of Veterinary Medicine and Science at the University of Nottingham registering with the college.
 
Nottingham's is the first new veterinary school to be established in the UK for 50 years and the first cohort to graduate were welcomed to the college by president Jerry Davies.
 
Dr Davies said: "Many observers have suggested that there has been a pioneer spirit amongst the students and staff alike that has carried this project so successfully. Long may that spirit last. You now share responsibility for our profession's future, for the welfare of animals, for the support of those who own and care for animals and for public health."
 
Dr Davies went on to offer ten personal observations for a successful professional life as a veterinary surgeon, which could be remembered by the mnemonic "Heart Beats":
Humility: show humility and be prepared to accept that you may not always be right;
Enjoyment & enthusiasm: enjoy your work, your personal life and your interaction with animals and be enthusiastic in all that you do;
Advice: accept advice from others whatever their position (especially veterinary nurses!);
Respect: respect animals and their owners, and respect those who work with you;
Trust: trust your colleagues and your own judgement;
Best: strive to do your best at all times;
Experience: every success that you achieve and, almost more importantly, every failure that you suffer, will build your experience;
Aim: aim high; there is nothing wrong with wanting to be the best in whatever walk of veterinary life you follow;
Take pride: take pride in your work, your place of work, your co-workers and in your profession;
Students: support future generations of veterinary students, student nurses and other trainees – this is an opportunity to repay some of the favours that have brought you here today.
 
* Figure subject to final confirmation