The RCVS has praised the dedication of former college president Lord Soulsby in bringing the veterinary and medical worlds together, following news of his passing aged 90.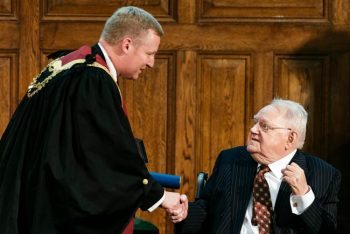 RCVS president Chris Tufnell said: "We are very sad to hear of the death of Lord Soulsby of Swaffham Prior, a figure who had a truly exceptional career, unique in its achievements and one dedicated to bridging and bringing together the worlds of medical and veterinary science.
"His dedication to the concept of one health is demonstrated by the fact he was both president of the RCVS and the Royal Society of Medicine – the first veterinary surgeon to be elected to that position – as well as being a founding fellow of the Academy of Medical Sciences."
Many accolades
During his lifetime, Lord Soulsby, who died on 8 May, was also the recipient of numerous honorary degrees and prizes, including honorary fellowship of the RCVS and the Queen's Medal, the highest award the RCVS can bestow on a veterinary surgeon.
This, said Dr Tufnell, was given in recognition of his:
contribution to one health
international work as a fellow and professor in numerous countries across the world
political work, as the first veterinary surgeon to enter the House of Lords in 1990
Much missed
"He gave an outstanding service to the profession, to veterinary science and to animal welfare, but was known for his endearing personality as much as his intellect," said Dr Tufnell.
"He will be missed by many colleagues in the veterinary world, but his legacy will live on through inspiring veterinary surgeons from all walks of life to work more closely with other health care and medical professionals and through his numerous published books and papers.
"Our sympathies are with his family and friends."