Liz Branscombe has been confirmed as the next chairman of the Veterinary Nurses Council (VNC).
First elected to VNC in 2006, Miss Branscombe has been vice-chairman for the last year. She qualified in 1986 and has worked in small and mixed animal practice, specialist referral practice and as a senior surgical nurse at the Royal Veterinary College.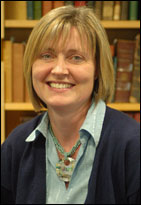 Miss Branscombe has worked at Davies Veterinary Specialists in Hertfordshire since its inception in 1998. There are currently 54 full- or part-time Registered Veterinary Nurses employed at the practice, where Miss Branscombe is Nurse Training Coordinator, providing both training and support for the nurses. She is also responsible for organising and directing the continuing professional development programmes for all members of the nursing team.
Miss Branscombe said: "We have seen a steady increase in the number of Registered Veterinary Nurses since the launch of the non-statutory Register in 2007: over 70 per cent of our profession are now registered. Next year, the Register becomes fully operational and one of our challenges will be to continue to inform and reassure VNs who may still be uncertain about its impact."