Nominations have opened for the RCVS 2017 Honours for colleagues or individuals who have gone above and beyond the call of duty in the field of veterinary medicine and related areas.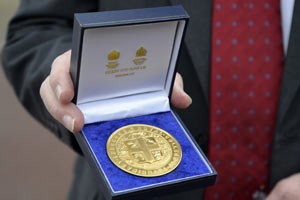 Nominations are open for three honours:
The Queen's Medal
Introduced in 2013, the Queen's Medal is the highest honour bestowed on a veterinary surgeon in recognition of those who have achieved a highly distinguished career and outstanding achievements. Nominations can be made by any member of the RCVS in respect of another veterinary surgeon.
The 2016 winner of the award was Randolph Richards, honoured for his contribution to the development of aquaculture in Scotland.
The Golden Jubilee Award
Introduced in 2011 to mark the 50th anniversary of the first RCVS training course for VNs, the Golden Jubilee Award recognises nurses taking a leadership role in the profession.
The 2016 winner of the award was Louise O'Dwyer.
Nominations can be made by either VNs or vet surgeons in respect of a VN.
Honorary Associateship
Finally, nominations can also be made for Honorary Associateship, eligible for those who, while not vet surgeons or nurses, have made a significant impact in the veterinary field. Previous winners have included scientists, farmers, farriers, educationalists and journalists.
This year an Honorary Associateship was awarded to David Lane for his support in launching the RCVS Certificate in Advanced Veterinary Practice.
The deadline for nominations is 16 September and all awards will be handed out at RCVS Day 2017 in July next year.