PDSA operates on Shih-tzu to remove four-inch lolly stick from stomach.
A shih-tzu puppy was found to have bitten off more than it could chew after swallowing an entire lolly stick.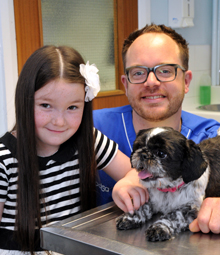 Lady was saved by PDSA in Manchester when it was discovered she had a four-and-a-half inch stick lodged in her stomach.
Owner Sarah Anderson, 26, from Openshaw, Manchester, knew something was wrong with her little Lady when she refused food and started acting unusually over May bank holiday weekend.
She said: "I noticed she had started sitting in a funny position, with her body slightly twisted. Then she went off her food and squealed when we picked her up."
Sarah took the poorly 15 month-old pooch to the PDSA PetAid hospital in Old Trafford, where vet James Fairs went straight to work.
He said: "An x-ray revealed some abdominal anomalies, although it wasn't possible to make a definite diagnosis. But when we examined her abdomen, we could definitely feel a thickening of the intestines.
"Lady was still relatively bright, but she wasn't eating or keeping anything down. We needed to do an operation to examine her internally and find out what the problem was. We were all quite shocked when we pulled an entire lolly stick out of her intestines."
At four-and-a-half inches, the lolly stick was almost as long as little Lady's body and vets were amazed it hadn't caused any serious internal damage.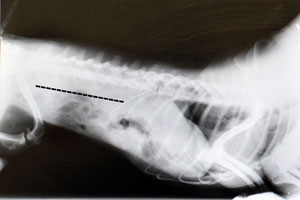 James added: "We cannot be sure when Lady swallowed the lolly stick, but if it had been left untreated it could have pierced her intestines, causing potentially fatal peritonitis. So Lady is a very lucky girl."
Sarah added: "We couldn't believe it when they told us they'd found a whole lolly stick inside her. We've no idea where she got it from, or how and when she ate it. It's a complete mystery, but we're just glad to have her home safe again. I did go out and check all round the garden though, just to make sure there was nothing else harmful there she might eat.
"My daughter Ellie (6) was so upset when Lady had to go to the hospital I can't thank PDSA enough for saving her life and all the hard work they do. Ellie is delighted to have her playmate back and they were back running around together in no time."
For more information on PDSA or to make a donation, visit www.pdsa.org.uk