More than half of animal owners do not understand what registered veterinary nurses do, according to nine in 10 vets polled by the BVA.

The surprising statistic, revealed by the BVA's "Voice of the veterinary profession" survey, has been released as a petition to give legal protection to the professional title "veterinary nurse" reaches its final fortnight.
According to the survey results:
89% of veterinary surgeons polled said they thought no more than half of their clients understood the specific role of an RVN
around half (48%) believe less than a quarter of clients understood the difference between RVNs and others who carry out a nursing role
18% claim that none or almost none of their clients were aware of the difference
Promote the profession
Liz Cox, chairman of the RCVS veterinary nurses council, said: "The survey underpins the need for all members of the practice team, including VNs themselves, to make sure animal owners are aware of the skills and expertise they possess, the tasks they can perform and the training and responsibility that comes with being an RVN.
"The RCVS and BVNA are currently undertaking the VN Futures project – an ambitious scheme to help the profession prepare for and shape its future – and how we can better promote the profession to the public is likely to be one of its key themes.
"Furthermore, we ask that vets and VNs abide by the code of professional conduct's requirement to use appropriate professional titles for registered and non-registered staff in order to ensure clarity for the public."
She added: "We would also urge that members of the profession and the public sign our petition to protect the VN title before it expires on 14 February."
Vital role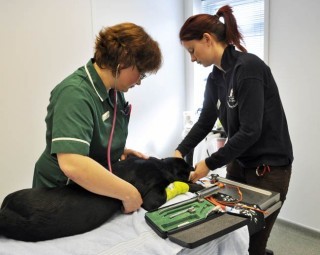 While flagging up the issue of public perception, the BVA claims its survey also highlights the vital role RVNs play in practice life, with vets rating the top two most important functions as:
monitoring patients during anaesthesia (80%)
medical nursing of in-patients (69%)
BVA president Sean Wensley said: "These survey results simply reflect what vets across the UK know already – RVNs' skills and expertise, in areas including general anaesthesia monitoring and in-patient care, are linchpins of the clinical veterinary team.
"We're urging animal owners everywhere to get behind the VN title campaign and help recognise the expert services provided by RVNs within the veterinary team, and their huge contribution to all of our animals' health and welfare."