Edmund Shillabeer of Hartwell Veterinary Centre in Plymouth hopes to walk in 325-mile Paris-Colmar race in June, but needs to qualify in 200km race in France this weekend.
An ever-racing veterinary surgeon is once again to take to the road at the grand old age of 74 to raise money for International Cat Care (ICC).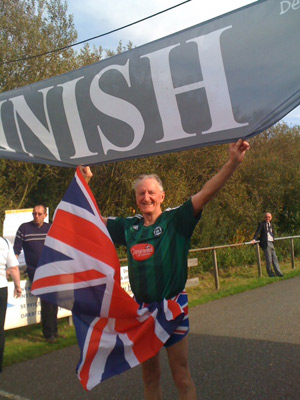 Edmund Shillabeer, of Hartwell Veterinary Centre in Plymouth – a prolific racer and fund-raiser – is the oldest athlete ever to debut for Great Britain, making his first international appearance as a speed walker at the age of 51.
He holds the Great Britain record for track walking over 100km and he is national champion over 100 miles. In 2011, he won the 70 to 74-year-old category at the 20km racewalk world championship in Sacramento. During his racing career, he has raised countless funds for charities Help For Heroes, Dogs' Trust, Guide Dogs and St John Ambulance, often in fancy dress.
However, in 2013, Mr Shillabeer may meet his biggest challenge. In June, he hopes to walk in the 325-mile Paris-Colmar Ultra racewalk. However, before he can compete, Edmund has to qualify in the 200km Ronde des Ducs race in Dijon this weekend (April 27 to 28, 2013), which he has to complete in 24 hours. If he is one of the 40 fastest from this race and six other similar heats, he will run in the Paris-Colmar race alongside the world's fittest racewalkers. Throughout the challenge, Mr Shillabeer is raising money for the ICC to help the charity produce educational literature and fund valuable posts and projects.
Mr Shillabeer – who fits in his training around his full-time job at his surgery, where he was worked since 1970 – already has a support crew in place, so is asking for sponsorship to cover the cost of the "big walk".
"It's a very deserving cause," said the Bristol veterinary school graduate. "[Let's] help ICC raise lots of dosh."
To sponsor Mr Shillabeer's efforts, you can email him at edmundshillabeer@aol.com or you can visit his Just Giving page to donate.