World Horse Welfare is part of a joint project to implement a potential long-term solution to the problem in semi-feral horses and ponies
A pioneering project to control overbreeding in semi-feral ponies has kicked off, led by a former chief veterinary officer (CVO).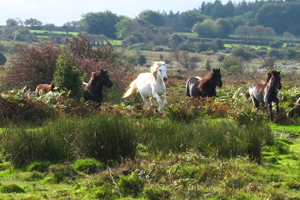 World Horse Welfare has teamed up with local vets and The Friends of The Dartmoor Hill Pony group to round-up 20 Dartmoor mares and give them an contraceptive injection.
Keith Meldrum, WHW veterinary consultant and past-CVO said: "A project of this kind has never been carried out before in the UK and I am delighted to be a part of it.
"We are hoping that, if successful, this could become a long-term solution to the issue of overbreeding within semi-feral horse and pony populations.
"We feel that this method of control is advantageous as the mares can come back into foal after the treatment; there is simply a reduction in foal production for the duration of the project."
The mares will be microchipped and marked before being given the first administration of Pfizer Animal Health's Equity injection, with the second dose due to be given a month later.
The product is currently licensed in Australia and is being used in the Dartmoor population with a special import license from the VMD.
"The ponies will be observed over a six month period to see if they come back into estrous – with the aim being to give them another injection in six months to see them through to the end of the year," Mr Meldrum told vetsonline.
Charlotte Faulkner, from Friends of The Dartmoor Hill Pony, added: "The adult pony numbers on the moor need to be maintained at the present number for the benefit of Dartmoor, but the foal crop needs to be reduced as there is no market for the foals at present.
"Controlling the production of unwanted foals will ensure their welfare. We are optimistic that this project will help us to ensure the future of ponies on Dartmoor. They will be able to graze to keep the moor as we know and love it for generations to come, conserving the habitat for its wonderful birds, plants and animals."