More than 1,500 veterinary practices will be offering free dental check ups next month as part of Pet Smile Month.
Pet Smile Month is the largest veterinary-run pet health campaign in the world. It aims to raise awareness of dental disease and to reduce needless suffering in thousands of affected animals. Bad breath, loss of appetite and low energy levels can all be signs of dental disease.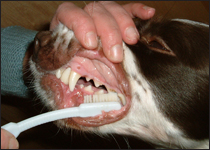 Bob Partridge, a Harrogate-based veterinary surgeon and the founder of Pet Smile Month, said: "A frighteningly high number – 80 per cent of our pets aged older than three – are in urgent need of dental treatment."
"They are walking around with infection and inflammation in their mouths that not only causes pain and discomfort, but can spread to affect the whole body."
And he added that owners rarely realised how much dental disease was affecting their pets until after treatment had been carried out.
"Owners frequently report 'he's like a puppy, or kitten again' after proper dental care. Restoring a pet to good health is one of the most satisfying things we do as veterinary surgeons," Mr Partridge added.
Through sponsor support, participating veterinary practices will be distributing 250,000 goody bags to cat and dog owners during Pet Smile Month. These will contain special offers and samples of Pedigree DentaStix and Whiskas DentaBits. The veterinary practices will provide oral assessments and offer guidance on both the prevention and treatment of dental disease.