Staff from the Ewell Veterinary Centre in Epsom, Surrey have raised hundreds of pounds for a veterinary charity by completing a 10km sponsored walk – via seven public houses.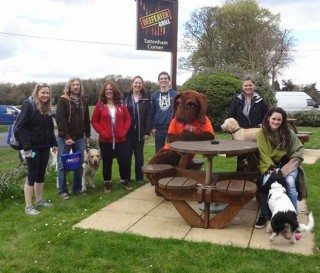 The team insist their multi-pub stops were made purely to persuade Sunday drinkers to part with cash for PetSavers, a division of the BSAVA dedicated to improving the health of pets and providing vets with a better understanding of animal illnesses.
Astounding support
Ewell Veterinary Centre receptionist Claire de la Porte said: "PetSavers is not a very well known charity outside vet circles, but many of our clients have benefited from the research it has funded.
"We were astounded by the support we received and more so from the pubs we visited en route.
Halfway pint
"Every landlord allowed us to go around with our collection bucket and the support we received from the patrons was amazing. The highlight for us was getting to the halfway mark – Tattenham Corner public house – where the landlord came running out and thrust a pint into the mascot's (Simon's) hands. We then pestered everyone sitting, eating their Sunday lunch and nearly every table donated and took selfies."
She added: "We have so far raised £534 and there is still more to come in."